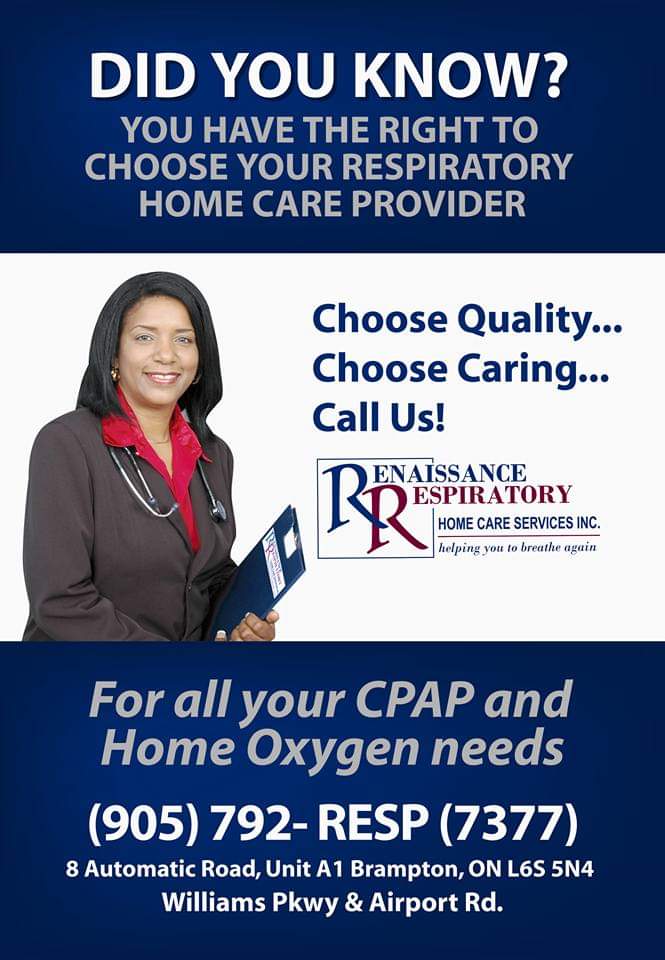 We are
Registered Respiratory Therapists licensed by the College of Respiratory Therapists of Ontario
Polysommnographic Technologists with specialized knowledge and training in sleep disorder treatment options
Medical Gas Technicians trained in the operation and maintenance of home respiratory equipment as well as training in Transportation of Dangerous Goods and Workplace Hazardous Materials.
Customer service associates who are efficient in office procedures and courteous in dealing with clients.
A local Canadian business and a member of the community we serve
An Assistive Devices Program (ADP) Registered Vendor for Respiratory equipment and a Home Oxygen Program approved vendor for home oxygen
Biography
Renaissance Respiratory was formed out of a need for new vision and to raise the bar of excellence in home respiratory care and service provision. Renaissance Respiratory operates in the Greater Toronto Area, York, Peel and Halton regions and environs.
The Chief Executive Officer, Ms. Beverly Pacheco, has more than 25 years in the community and 35 years of experience in the provision of respiratory care. A graduate of the Michener Institute, she has worked in many areas of Respiratory Therapy, including critical care of the adult and neonate, sales and marketing of respiratory equipment at a national level, Professional Practice Leadership, as well as Management of the Respiratory Therapy Department. She has worked in various settings including the private sector in Canada and the U.S., hospitals in Ontario and Saudi Arabia. Ms. Pacheco also has specialized training and experience in Sleep Medicine Technology.
For the past 10 years, Ms. Pacheco has served the communities of Peel, York and Halton regions in home respiratory care coordination, marketing and sales. She was successful in helping clients and families cope with the transition to home on oxygen therapy as well as helping to improve the quality of life of those individuals living with respiratory disease. Ms. Pacheco has an indomitable entrepreneurial spirit, a zest for success, and an unwavering passion for the provision of quality respiratory care both in hospital and the home. With Ms. Pacheco at the helm, Renaissance Respiratory will be propelled into an industry leader in respiratory home care in the Greater Toronto Area.